Newly Endowed Chair Underscores Value of Computational Journalism | College of Computing
It is great to see someone who has done so much for Computational Journalism, continue to support it this way. Thanks Krishna Bharat.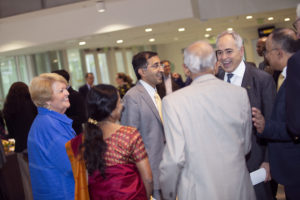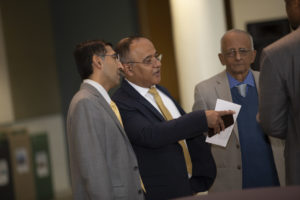 Friday, November 1, 2019
The creator of Google News has endowed a new faculty chair position in computational journalism at Georgia Tech's College of Computing. Krishna Bharat – Georgia Tech alumnus (MS CS 1993, Ph.D. CS 1996) and Distinguished Research Scientist at Google – announced his donation during a reception at the College, held Oct. 31.
"Given the relative maturity of the field and the promise ahead, I felt this was the right time to create an endowed chair in computational journalism. This is a way for me to give back to Georgia Tech, and also to help the College of Computing expand its research portfolio, and show leadership in this important area," said Bharat.
President Ángel Cabrera, Dean of Computing Charles Isbell, and members of the College's Advisory Board, along with dozens of faculty, staff, and students, attended the reception held in the Klaus Advanced Computing Building.
The Krishna A. Bharat Chair in Computational Journalism recognizes the College's contributions to the field, which Georgia Tech is credited with creating in 2006. A nationwide search to fill the newly endowed chair position will begin in the coming months.
Source: Newly Endowed Chair Underscores Value of Computational Journalism | College of Computing
On Twitter